Tired of messy cords and filling up of gasoline in your lawn mower, the WORX WG775 Lil'Mo Lawn Mower completely cordless electric lawn mower can be your replacement for existing mower in your house. This lawn mower would suit you if you have average to large size yard. It has latest features and functions that would make lawn mowing a fun task for you. This mower is light weight and can be easily used by anyone in your house.
You can be sure of getting an efficient cut and beautiful healthy lawn with use of this machine. The mower runs on a removable battery and if you wish to run the mower for a longer period, you can have an additional battery charged with you. If you are a newbie, this machine can be best lawn mower for you because of its simple and user-friendly operation. The design is not only lightweight but it is compact which makes it easy to store.
Specifications
Brand: WORX
Lawn Mower Model: WG775
Cutting Width: 14 inches
Options (cutting): Bagging, Rear discharge and mulching
Cutting Heights Adjustments: From 1.8 to 3.3 inches
Weight of product: 32 pounds
Warranty: 2 years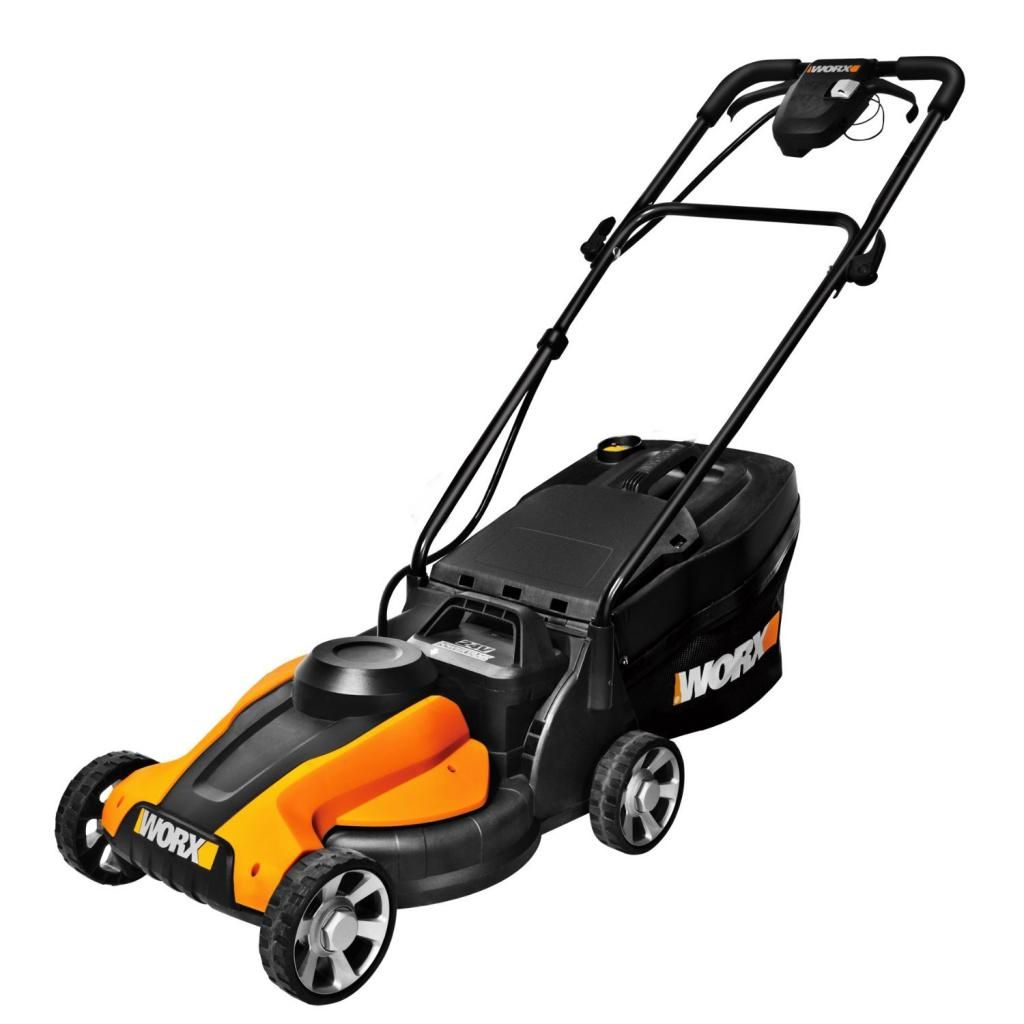 Click here to Read full customer reviews at Amazon
Structure
The WORX WG775 Mower is a cordless mower with rechargeable battery and intuitive ignition features that gives you worry-free mowing operation through an average to large size lawn. The product has a longer and powerful battery life as compared to other battery operated lawn mowers.
It has a battery warranty of 1 year and a complete mower warranty of 2 years. The machine is easily manageable because of its light weight and no cords. Weight of the mower is less than 33 pounds.
Capacity
The WORX WG775 Lil'Mo works really well with a land size of around 1/4 acre. You can even mow larger areas and here credit goes to the removable battery feature. The cutting deck size of this machine is 14 inches.
Having an additional charge battery would enable you to enjoy mowing larger yard size in one go. A single charge of a 24 Volt battery would be sufficient to mow 6,000 square feet with run time of 30 minutes. You can charge the battery anywhere as it is removable without having the need of bringing mower close to the charging point. The mower also includes an advanced indicator of power level and here you would be able to easily make out if your mower battery needs to be charged?
Performance
The WORX WG775 includes a one-step height adjustment feature. With this feature you can easily adjust height of all the four wheels together. You can get your desired cut height for land ranging between 1.8 inches to 3.3 inches. The lawn mower is capable of performing 3 functions including bagging, mulching and side discharge like Lawn-Boy 10730 lawn mower. It has versatile options for discharge. Clippings are also chopped in to smaller pieces with the mulching bag blade.
The mower includes a mulch insert and grass bag. The grass bag has a handle making it easier to remove. It also indicates when it is full so you can empty to reuse it with your mower again.This product begins with the push of a button and there is no need of wasting efforts of pulling start-up strings.
Check out the features and specifications details of it right now
Operation
The mower may not be completely quiet in comparison to manual lawn mowers however the noise level is only minimal and reasonable. Have gone through various customers' lawn mower reviews of this machine but there were no such complaints reporting high disturbing noise level. So with this product, you can be sure of having no objections from your neighborhood. The mower is nature friendly. No hassle of fueling and messing up with gasoline as is with gas powered lawn mowers. A major benefit of the machine is it being a cord less mower.
Ease to use
The WORX WG775 is simple to operate. The mower starts with one push button and operates smoothly on uneven land spaces as well. The machine is lightweight and cordless that makes maneuvering easier and feasible for users.
The handle is designed for ergonomic comfort that enables pushing easier with complete control in your hands placed comfortably on foam padded handle. Simple height adjustment feature is another ease. Design of the lawn mower is compact and you can easily store this machine in a small space of your house. The lawn mower is quite efficient as compared to many other heavy machines available in market at expensive prices.
Pros
A 24 Volt powerful lead acid removable battery that gives you powerful cutting in one single charge.
A single charge of the battery can mow 6,000 square feet of land in 30 minutes.
Additional battery can be kept to mow larger area of land.
3 in 1 cutting options include rear bagging, mulching and side discharge.
One simple height adjustment feature from 1.8 inches to 3.3 inches.
Easy push button startup.
No gas fueling so no emissions (environment friendly).
Quiet operation in comparison to other lawn mowers.
Design of the mower is compressed making it easy to store.
Powerful cutting and great maneuvering.
Ergonomically friendly handle makes operating the lawn mower easier.
Weight is light around 33 pounds only.
This lawn mower has a warranty of 2 years.
Cons
Cutting deck is only 14 inches and thus you would need to make more number of turns to mow your land as compared to other lawn mowers with wider cutting decks.
Charger of the battery doesn't shut down automatically after charging and thus it could damage battery if overcharged.
Conclusion
The WORX WG775 Lil'Mo Lawn Mower major highlighting feature is its cordless nature. The mower works on a removable battery which saves you from being trapped in to handling of wires and filling up of gasoline that messes your space. If you have an average size lawn, the WORX WG775 Lil'Mo could be suitable and reasonable choice for you. Grab one for yourself now and enjoy mowing without disturbing the little ones around in your neighborhood.
See full rating, reviews and pricing of Worx WG775 Lil'Mo here