For all those who are looking for a healthier and fresh looking lawn or yard, you can achieve the results you desire with a light weight Scotts 2000-20, 20-inch Classic Push Reel Lawn Mower that gives you best performance of mowing land. This lawn mower gives you quiet and environment friendly operation along with convenience and ease of handling. Your neighbors wouldn't even know that you are using a lawn mower to clean and trim your lawn.
This manually operated walk behind lawn mower is safe and easy to use without giving you hassle of fueling gas up and creating pollution via emissions or noise. If you have a small yard, this lawn mower would work as the good lawn mower for your needs. The machine is not only user-friendly but saves you a lot of money that you may be spending with other lawn mowers for their maintenance and fueling. At the same time it serves as time and effort saving machine.
Specifications
Brand: Scotts
Lawn Mower Model: 2000-20
Cutting Deck: 20 inches
Precision Blade: 5 heat-treated, steel blades
Cutting Heights Adjustments: From 1 inch to 3 inches (9 positions)
Wheels: 10-inch dual tracking wheels and rugged radial tires
Weight of product: 30 pounds
Warranty: 2 years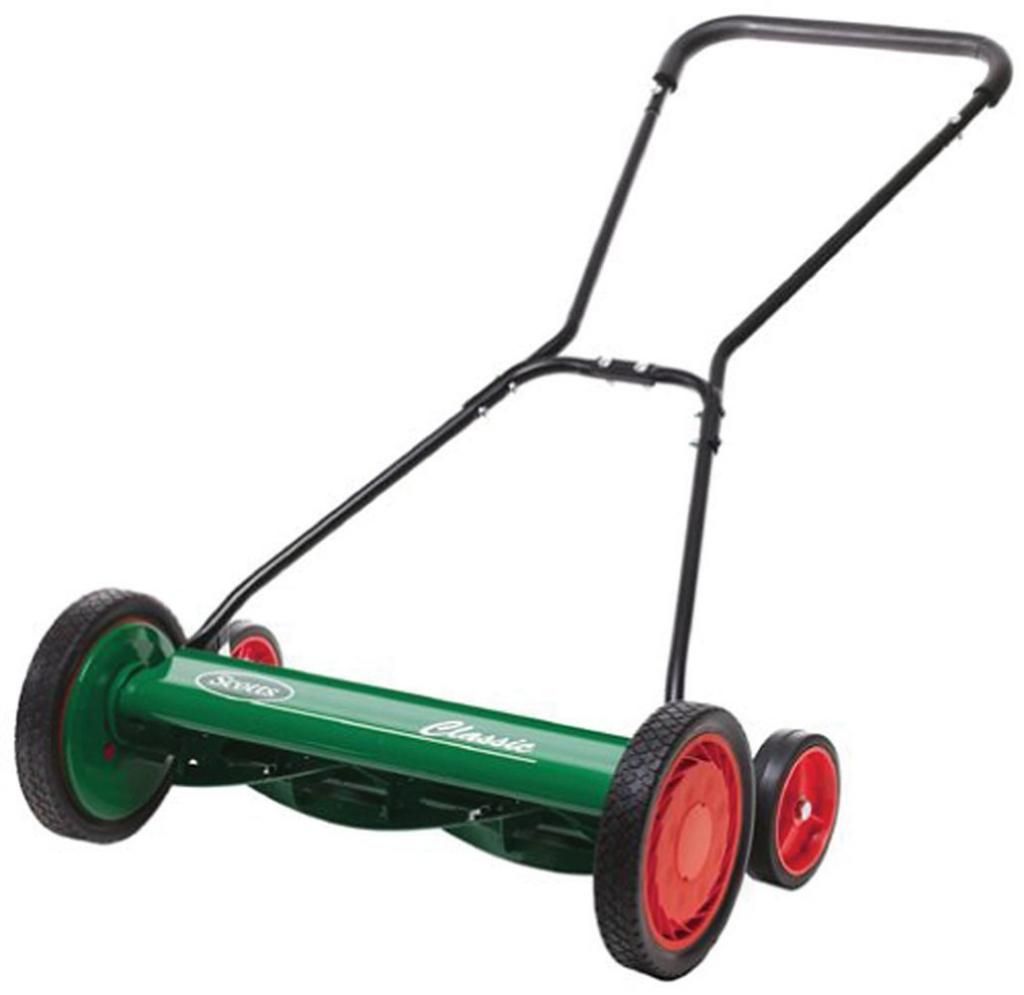 Find out the Specification details of this model here
Structure
The Scotts 2000-20 Reel Mower is a manual push lawn mower with no complicated engines or electrical motors. This lawn mower is a simplified mower and could be used by anyone. The machine is safe and includes innovative technology to give you finer cutting of grass. The blades are made with high quality steel and are durable. Thus the lawn mower requires very little maintenance and could be used for a longer term without any worry.
The Scotts 2000-20 has a two year warranty and the machine is a light weight mower with only 30 pounds of weight matching weight of  WORX WG775 Lil'Mo Lawn Mower (around 33 pounds). This compact and light weight design makes this mower more user-centered and easy to use.
Capacity
The Scotts 2000-20 Reel Mower is suitable for small yards with a size of 1/4 acre or less. It features a high quality durable steel cutting deck 20 inches wide capable of trimming larger area of your lawn with less time consumed and fewer efforts made. Thus you can get your mowing job done more efficiently and effectively.
The product includes efficiently and effectively leveled ball bearings that enable smooth spinning of blades for most accurate trimming. You will find your grass trimmed with complete accuracy through this machine. It has excellent mulching that gives you a neat and tidy lawn. The blades are powerful and tough ensuring longer life time for this machine.
Performance
The Scotts 2000-20 Mower is a light weight excellent performing machine that gives you 9 height adjustment slots ranging from 1 inch to 3 inches. You can easily adjust a particular height range for your grass according to your desire with control of a fingertip through its quick-snap height adjusters. With this lawn mower, you have complete control over how tall your lawn grass should be?
Along with easy custom control, the lawn mower includes a 5 blade reel (5-spider) including heat-treated blades made up of high quality steel and these give you powerful and finer cut.
Check out full rating, pricing and reviews at Amazon now
Operation
The Scotts 2000-20 doesn't make any annoying noise that you may find with any electric or gas fueled lawn mower. This lawn mower is a quiet machine that does its job efficiently and quietly. Also as it doesn't use any gasoline so there are no emissions made making this lawn mower nature-friendly too.
The lawn mower includes two 10 inches dual tracking composite wheels with radial tires. This dual wheel tracking ensures easy maneuvering. There are additional two six inches tracking wheels featured with the machine for improved mowing. This innovative technology used with the machine makes it easier to push and it wouldn't require you to make much efforts of dragging it. You can mow through tough and uneven areas as well.
Ease to use
After thorough study of lawn mower reviews, you would have realized how easy it is to use and handle the Scotts 2000-20 Mower. Other than that, it is also easy to assemble as the package includes lawn mower along with handle and wheels. As there is no motor or engine attached, there will be no complications in assembly. You can begin mowing your lawn after some minutes of receiving the product.
The lawn mower also includes a loop style handle for comfortable operation of mower. You can get your lawn trimmed beautifully within minutes and with complete ease. Durable steel blades make the machine easier to maintain and there is very minimal maintenance required. The lawn mower would be a long lasting machine that would work perfect for your small lawn. You can be sure of getting an ultra-sharp trimmed land with this mower.
Pros
The lawn mower includes 5 heat treated highly durable steel blades with ball bearing reel that gives you sharp cutting.
High quality steel cutting deck with 20 inches width that gives you reduced passes through your lawn and less time consumption for mowing.
Easy to adjust height ranging from 1 inch to 3 inches with quick snap height adjusters.
It gives you 9 different cutting height options.
No emissions and thus no pollution.
Operating this lawn mower wouldn't make noise. It is very quiet.

Minimal maintenance

is required.
Easy storage.
Dual 10 inches composite wheels with tracking for easier maneuvering.
Foam gripped loop style handle for easy operation.
Easy to assemble and use.
Light weight with only 30 pounds weight of machine.
It is safe to use.
Backed by a warranty of 2 years for the mower.
Cons
The lawn mower may not be suitable for thicker grass.
It would need you to make more efforts with weeds.
Sticks in your lawn may get stuck in blades and you would need to pull them out.

Conclusion
The Scotts 2000-20, 20-inch Classic Push Reel Lawn Mower is a simple to use lawn mower suitable for a small lawn or yard. If you are looking for an eco-friendly manual push mower with smooth operation, then this machine may be a good choice for you.
Click here to check out the latest reviews, rating and pricing