The name of Lawn-Boy has a history dating back to 1934 in the industry of turf maintenance. The Lawn-Boy 10730 mower is known for its easy to use features and amazing performance for cutting of grass. The lawn mower is easy to mow and gives efficient cutting on uneven surfaces as well. It is a high wheel push mower type and has a tri-cutting versatile system that enables a finer cutting through lawns. The machine has relatively light weight as compared to other similar mowers.
The mower could be your smart choice if you have hilly or uneven land to mow. Not only is it easy to operate but also easy to assemble. The machine is sturdy and is suitable for mowing wet, thick grass and weeds as well. For all those who are looking for a basic lawn mower gas powered, this is one of the great lawn mower for you!
In the remaining part we have detailed and highlighted some of the best features of the Lawn-Boy 10730.
Technical Specifications
Brand: Lawn-Boy
Lawn Mower Model: 10730
Kohler XT6 OHV Engine
Cutting Width: 21 inches
Options (cutting): Bagging, mulching and side discharge
Cutting Heights Adjustments: From 1.25 inch to 3.75 inches (6 positions)
Wheels: 21-inch High Wheel Push Mower and 11-inch high rear wheels
Weight of product: 61 pounds
Warranty: 2 years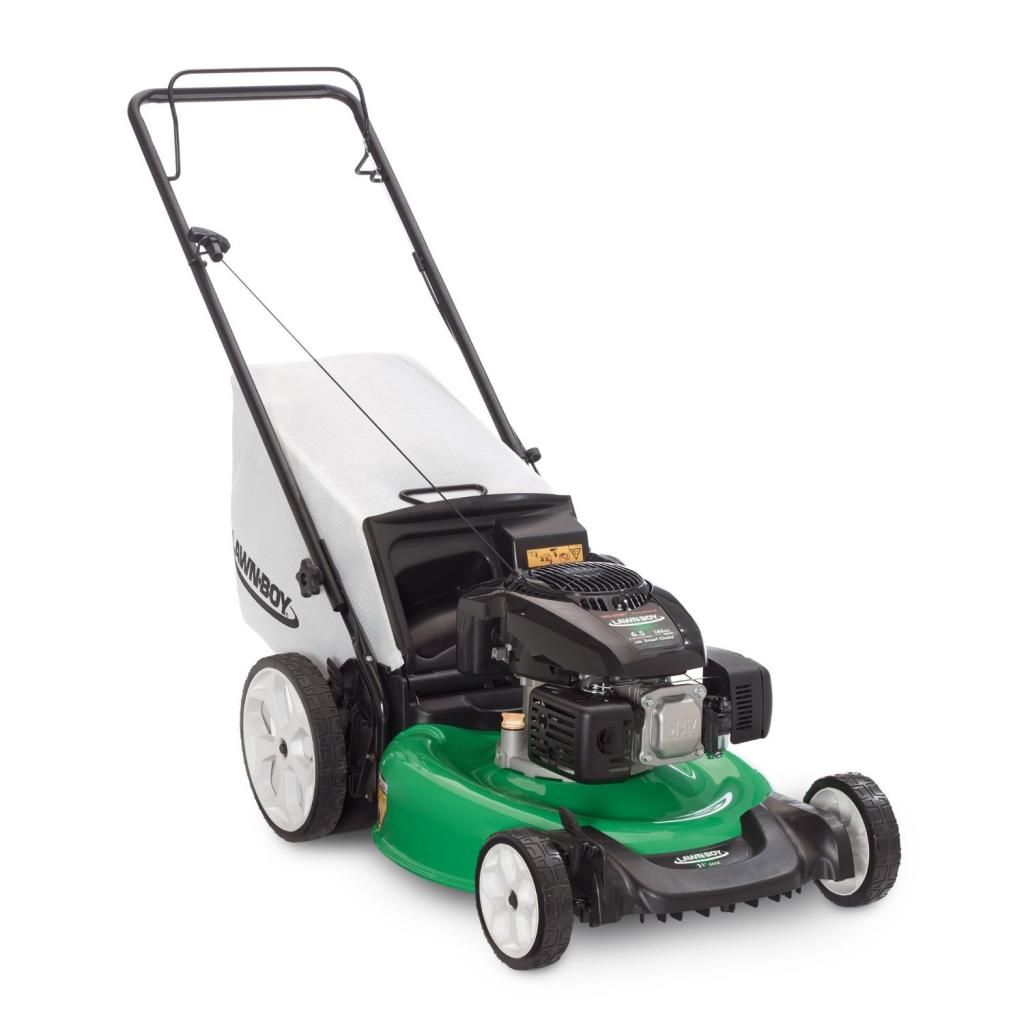 See full Features of Lawn-Boy 10730 model here
Structure
The Lawn-Boy 10730 is a high wheel push mower powered with Kohler XT6 OHV 144CC Engine that gives a unique care for your lawn mower. The powerful engine makes maneuvering your lawn easier and quicker. The 6.5 Torque Engine gives you a durable lawn mower with quality never compromised. The brand name being in the industry since 1930s makes this lawn mower more reliable and trusted in terms of performance.
The Lawn-Boy gives a 3-Year Tru Start Commitment through which you can claim free fixing if your lawn mower doesn't start after one or two pull. This start commitment is applicable till 3 years of purchase of this lawn mower. Also the product is protected through a complete 2 years warranty for its startup, power and parts. Thus for 2 complete years you need not to worry about anything.
The lawn mower is lighter lawn mower with weight of 61 pounds comparatively lighter than other heavy and bulky gas lawn mowers.
Capacity
This Lawn-Boy 10730 Mower is suitable for mowing a yard size ranging from 1/4 to 1/2 acre. The lawn mower is manual push type and has a steel made cutting deck 21 inches wide. The lawn mower features a Tri-Cutting system that gives you excellent quality trimmed land. The cutting system offers 3 features in one machine including mulching, bagging and side discharge. You can mulch grass and even collect clippings hassle free and quicker with this lawn mower. The tri-cutting blade gives efficient mulching of grass. The product also includes a large capacity clippings collection bag.
The engine power is designed to be user-centric giving you ease with powerful and tough cutting performance through any type of land. It has a recoil starting system that is easy to start. It usually starts in one or two pulls and if it doesn't you can get free fixing as explained earlier in the lawn mower reviews through the company's Tru-Start Commitment.
Performance
The mower offers Two-Point Height Cut and the points can be easily adjusted from a side of this mower. There is no need of height adjustment tool and you can get desired length for your lawn grass easily with the options in this lawn mower.
The two position handles give you 6 cutting height options ranging from 1.25 inch to 3.75 inches. The lawn mower is simple and easy to use yet powerful with wet, thick, weeds and tough grass as well.
Check out Performance and Power of Lawn-Boy 10730
Operation
This Lawn-Boy 10730 Lawn Mower may not be as quiet as electric lawn mowers such as GreenWorks 25142 Lawn Mower however it is not really loud. It makes a reasonable amount of noise that other gas fueled lawn mowers make. Moreover the lawn mower is CARB emission complied. It gives you smooth maneuvering of your lawn and is one of the best choices among gas mowers.
The lawn mower is easy to start, handle and operate. The high wheel design of this lawn mower is most suitable for rough and hilly surface. It has 11 inches wide rear wheels enabling smooth mowing over uneven terrain.
Ease to use
The Lawn-Boy 10730 has a simple startup recoil system and would give you no choking problem while mowing. Its lightweight and high rear wheels design makes this machine easy to operate and mow. The lawn mower includes a large capacity grass collector which is easy to attach to the mower. Large capacity of the bag makes your work quicker as you can collect large amount of clippings and wouldn't need to stop quite often. This bag can be easily emptied and attached back to the mower.
The lawn mower is easily to assemble. After unpacking the machine, you only need to attach the handle, fill the oil (included) and fuel it up with gas. That is it; you are good to begin mowing your land. Assembly is quick and easy. The lawn mower can easily mow an average sized lawn. The lawn mower can be easily stored as it has a compact holding handle. It also includes a safety handle and as this clutch is released, engine will automatically stop within 3 seconds.
Pros
A Kohler XT6 OHV 4-cycle 144CC Engine that gives you powerful mowing through weeds and tough surfaces as well.
Steel cutting deck which is 21 inches wide makes way for quicker mowing by covering large pieces of land in one go.
Easy start-up (starts with 1 or 2 pulls).
3 in 1 feature includes bagging, mulching and discharge.
Switching between different modes is easier.
The lawn mower is CARB compliant.
High rear wheels 11 inches makes maneuvering easier.
The product includes a large capacity grass collector.
It offers 6 different positions with two-point height of cut ranging between 1.25 to 3.75 inches.
Folding handle for easy storage.
Weight is 61 pounds relatively lighter than other gas mowers.
Safety clutch included.
Simple assembly.
Tru-Start Commitment by Lawn-Boy of 3 years.
Complete coverage warranty of 2 years.
Cons
Handle is not padded.
Mower is not suitable for large hilly yards.
Conclusion
The Lawn-Boy 10730 Lawn Mower is most suitable for a reasonably sized lawn and gives you easy start-up, handling, operation, assembly and storage. The lawn mower gives you efficient lawn mowing along with best industry beating set of warranties. So get this push wheel gas lawn mower by Lawn-Boy now!
Own Lawn-Boy 10730 today to Enjoy Toro Engineered Tri-Cut System