Husqvarna is a name known for offering a wide range of exceptional products for meeting demands of an exceptionally great looking yard. The company offers a variety of different equipment that proves helpful in maintaining your yard and keeping it neat and clean. The Husqvarna YTH2042 Riding Lawn Tractor is one such product from this range that gives you premium quality results with its efficient performance. The consistent performance of this lawn tractor depends on the impressive features of this model. So if you have a small or a medium sized lawn, you won't find any problem mowing them with an electric or hand lawn mower however they won't be suitable for larger yards. For larger yards, riding lawn mowers are suitable.
This riding mower type is most appropriate for mowing larger yards thanks to its powerful engine. Not only this mower is easy to operate but its relatively compact size makes it easier to store without troubling you in the house. If you are looking for a best lawn mower, then this one should surely be classified among your list. It includes various features like adjustable seat, ergonomic friendly steering, easy cutting height setup and lot more that makes maneuvering your land an easier task.
Technical Specifications
Brand: Husqvarna
Model: YTH2042
Cutting Width: 42 inches
Cutting Height: 1.5 to 4 inches
Cutting height increments: 6
Cutting methods: Collect, mulch, side eject
Weight of product: 418 pounds
Engine: 20 HP, single-cylinder Briggs & Stratton Intek
Warranty: 2 years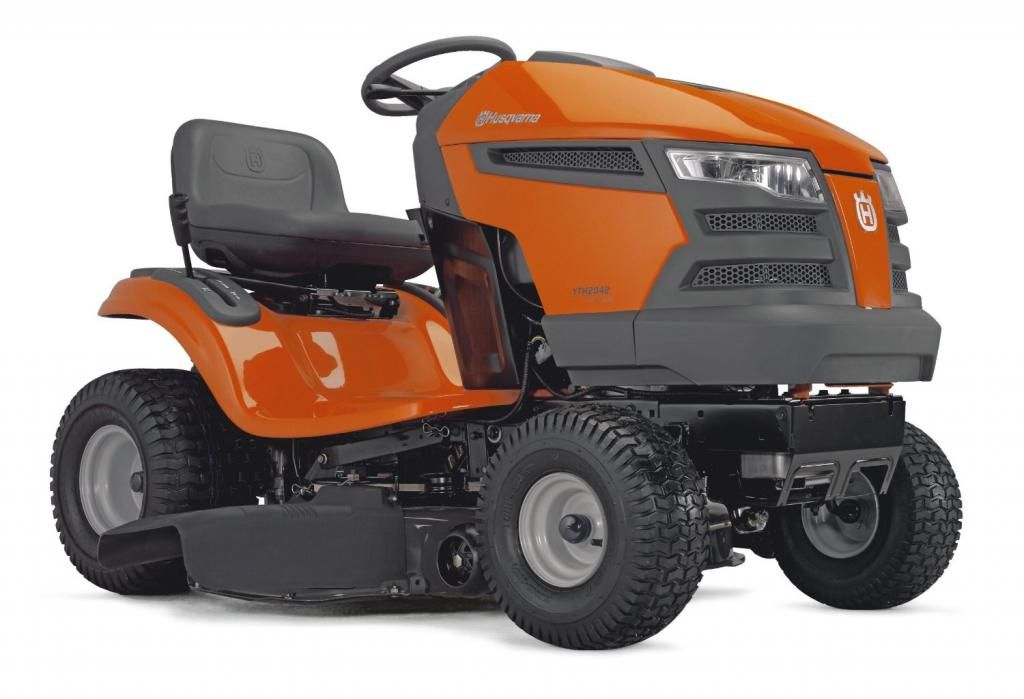 Find out more about the features and specifications of it here
Structure
When it comes to durability, Husqvarna is a name that needs no introduction. So this device as well from the same range is most durably built device with front axle of heavy cast iron and includes superior quality wheels that are anti-scalp. The entire mower is outfitted with a bumper for protection on the front. This riding mower gives you a refreshingly clean yard and is backed by a limited warranty of 2 years. Weight of this machine is around 418 pounds which is relatively lighter in comparison to other similar type of mowers.
Capacity
The Husqvarna YTH2042 Riding Lawn Tractor features a 42 inches wide cutting deck that gives you improved and consistent cut throughout your lawn. The lawn mower is appointed with air induction technology to give you improved cutting performance. This wide cutting deck enables cutting of over 1/2 acre of lawn. The lawn mower is considered best for large lawns less than 2 acres of area however it will work for even larger as well.
The mower is powered by the best choice 540cc 20 HP Briggs & Stratton single-cylinder Intek Engine which is known for its ultimate combination of performance with power. This powerful engine will give you efficient control, smooth running and excellent speed of mowing even on challenging terrain surfaces. The machine is Non-CARB Compliant and thus is not for sale in California.
Performance
The Husqvarna YTH2042 Riding Lawn Tractor gives you an easy height adjustment mounted on the fender of the mower. This height adjustment is easy to reach while you are mowing land and is easy to use. The mower offers 6 different levels of height adjustments from 1.5 to 4 inches.  The 3 in 1 feature of this mower similar to the Black & Decker SPCM1936 Lawn Mower gives you fine results for bagging, mulching and side discharge. You can conveniently choose any of these options.
The mower has an excellent Air Induction mowing feature that gives you powerful suction and cutting process for your grass. The blades are extremely sharp and are extremely efficient in cutting. The YTH2042 Tractor has anti-scalp wheels that enable the mower to cut evenly on hilly or sloped surfaces. This tractor gives you both forward and reverse speed of maximum 5.2 mph and 2.9 mph respectively.
Check out Performance and Power of Husqvarna YTH2042 Riding Lawn Tractor
Operation
Lawn mower reviews of this riding lawn tractor suggest that this small beast does its job efficiently and smoothly without making much noise. Its quiet operation is a feature that your locality neighbors would surely envy. It can be easily used around obstacles as well as it has a 16 inch turning radius. This machine is termed as the most versatile one and can be used for both commercial and private operations.
Ease to use
The Husqvarna YTH2042 Riding Lawn Tractor works on hydrostatic transmission with fender mounted level gives easy control of direction and speed. The steering wheel is also ergonomic friendly that gives you easy control and comfort of use while mowing. For ease of use, the blade engagement level is located on the dash of the tractor.
It has a step-through design that makes mounting and dismounting quite easier for rider of the mower. There is also a cup holder so you can refresh yourself while operation of mowing. A water port is there on the deck through which you can connect a water hose with port for easy cleaning of deck underside. The design is compact and thus it would need less storage space as compared to other riding mowers.
The seats are adjustable for comfort in back and forth position and it has a 15 inches high back. With this riding lawn tractor, you can add a number of different towable accessories and other mulching kits for improved fertilization of your lawn.
Pros
Briggs & Stratton Intek Single Cylinder 20 Hp 540cc powerful engine to give you speedy and efficient riding through your lawn.
Hydrostatic transmission for easy control of direction and speed
Convenient to reach and use level mounted on fender.
Heavy cast iron durable front axle.
Maximum 5.2 mph forward and 2.9 mph reverse speed.
3 in 1 functions of cutting include mulching, bagging and discharge.
42 inches wide cutting deck.
6 cutting heights from 1.5 inches to 4 inches.
Ergonomic friendly steering wheel for ease of use.
Anti-scalp high quality wheels.
Air Induction Mowing technology for superior quality cutting performance.
Blade engagement level mounted on dashboard for easy use.
Step through design for ease of mounting and dismounting.
Back and forth adjustable 15 inches high back seats.
Easy cleaning of underside deck.
Towable accessories.
Includes a headlight.
2 years warranty.
 Cons
More consumption of gasoline.
Expensive.
Collection bag only collect clippings and would not hold dust so it is advised to mow in the morning when dew has just dried so you can avoid yourself and the tractor from getting dusty.
Non CARB Compliant and thus not for sale in California.

Conclusion
Overall the Husqvarna YTH2042 Riding Lawn Tractor is an excellent riding lawn tractor that would help keep your lawn maneuvered all the time with complete ease of use and reliable performance. Take hold of this powerful monster now!