The Husqvarna 7021P Lawn Mower is a gas powered lawn mower easy to use with 160cc GVC160 Honda engine. All the mowing needs of your lawn will be fulfilled with this efficient machine. This lawn mower is rated among top 5 lawn mowers under the category of gas push lawn mowers. The design and techniques used with this lawn mower makes it easier to maneuver even through close distances and gives you excellent cutting results.
The lawn mower is quite powerful with excellent energy level however you can alter the cut design of your lawn according to your desire with this machine. Handling system of this lawn mower is quite different and makes mowing through uneven surfaces quite easy. You can make your lawn look beautiful with fewer efforts and less time consumed. This leading gas powered lawn mower gives you a stable and neat lawn mowing.
Specifications
Brand: Husqvarna
Lawn Mower Model: 7021P
Cylinder displacement: 160 cc
Gross torque: 6.9 pound per foot
Cutting Width: 21 inches
Options (cutting): Rear bag, mulch and side discharge.
Cutting Heights Adjustments- 4-point: From 1.5 inches to 3.5 inches.
Wheels: 12 inches rear and 8 inches front.
Weight of product: 52 pounds
Warranty: 2 years limited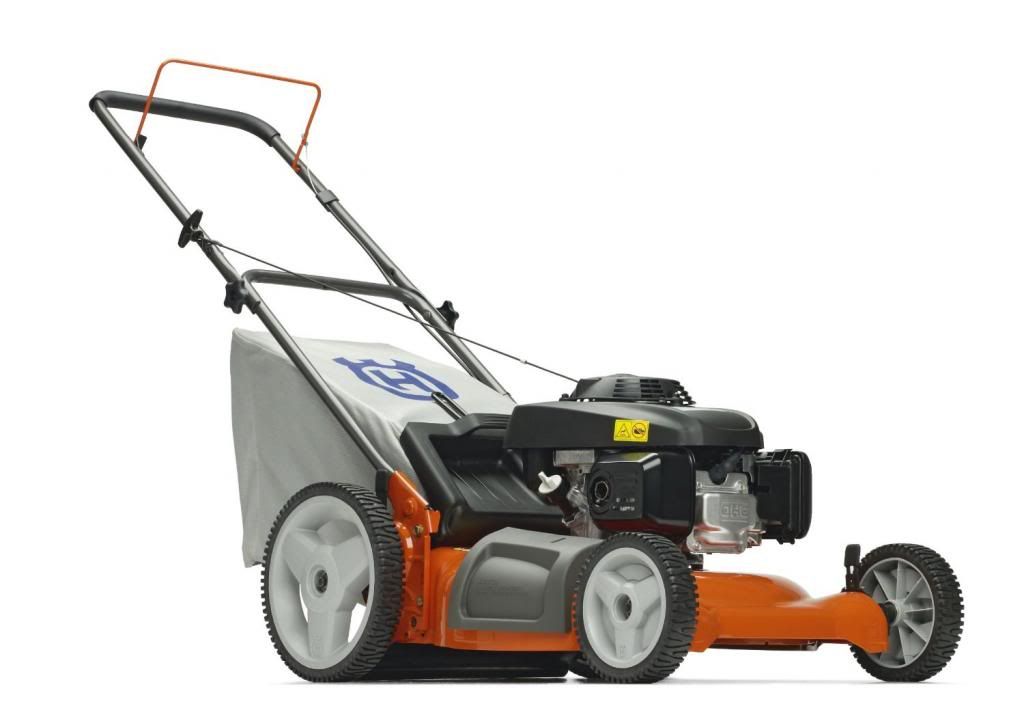 Check out full rating, pricing and reviews at Amazon now
Structure
The Husqvarna 7021P Lawn Mower is designed to mow through bumps, terrains and around trees or bushes. The premium gas powered Honda engine of the lawn mower makes it powerful enough to cater to all needs of your lawns. You can use this lawn mower with varied pieces of lands.
The product comes with a 2 years limited warranty. The weight of this machine is light as compared to other gas lawn mowers. The Husqvarna 7021P weighs around 55 pounds.The weight of the lawn mower in comparison to other similar types is quite light which enables easy pushing through land.
Capacity
The Husqvarna 7021P is a gas powered lawn mower most suitable for newbies and smaller yards with Honda GVC engine. All the functions of this lawn mower are simple to use. The lawn mower has a cutting width of 21 inches and this wide cutting makes your lawn mowing task quicker and improved. This cutting width is even wider than that of GreenWorks 25302 Twin Force G-MAX which is 20 inches wide. This enables you to mow larger spaces in shorter span of time. The cutting deck is made up of high quality steel. The Honda engine gives 6.9-gross-torque for easy startup and operation.
Performance
The Husqvarna 7021P Lawn Mower gives you a four point height adjustment with cutting height ranging from 1.5 inches to 3.5 inches. There exist 6 cutting height increments. The lawn mower starts easily and gives you smooth running throughout your lawn mowing process.
The machine includes 3 in 1 functions offering mulching option, rear bagging option and side discharging. It includes a soft collection bag. The lawn mower works evenly in tighter spaces as well. It has two large rear wheels of 12 inches each and the two front wheels are 8 inches each. Large rear wheels and double ball bearings make this lawn mower smooth to operate even on inclined areas. It can easily bump over.
Check out the features and specifications details of Husqvarna 7021P here
Operation
The Husqvarna 7021P couldn't really be called a quiet lawn mower. It does make noise but the noise level is not obnoxious. We had talks with those who have used or are using this lawn mowing machine but they seem to be content with the noise level created during operation of this machine. However there exist other electric and manual lawn mowers that are comparatively quieter so we can't call this mower a quiet machine.
Ease to use
The Husqvarna 7021P Lawn Mower is designed to be a feasible and user-friendly machine for lawn mowing. The height adjustment feature of the lawn mower gives easy operation and functioning. The machine is easy to start up and operate.
Handle has a soft grip and is foldable. Thus after using the lawn mower you can easily fold and store it. The 21 inches cutting blade gives you finer quality cutting even through tight areas. Moreover the lawn mower offers 4 points and 6 increments cutting adjustments for different types of yards.
Large size rear wheels makes running of lawn mower smooth through varied areas. The Husqvarna 7021P complies with the emission standards set by CARB-California Air Resources Board. The lawn mower is most suitable for smaller lawns or yards.You wouldn't need to worry about how to use a lawn mower with this simple to operate Husqvarna 7021P.
Pros
A 160cc Honda GVC160 engine powerful engine makes this lawn mower one of the most efficient machines.
It has a 21 inches cutting deck made up of steel.
It offers 3 in 1 feature of cutting which includes rear bagging, side discharge and mulching.
Rear wheels are of 12 inches and these wide wheels offer easy maneuvering through land spaces.
Handle has soft grip and is ergonomically friendly.
It has a control bar with brake shuts off blades system to prevent from any incidents to occur.
Lawn mower is easy to store with foldable handle.
4 points, 9 positions height adjustment from 1.5 to 3.5 inches.
55 pounds of weight which is light as compared to other gas lawn mowers.
A break for stopping the blades makes it safe machine.
Relatively quiet operation.
Cons
Construction is mediocre.
Conclusion
The Husqvarna 7021P Lawn Mower is worth for the price you pay. You wouldn't be able to find all these features, efficiency and power within this price. Many of the customers have shown satisfaction on performance of their Husqvarna 7021P lawn mower.