If you have a small garden and would like to make it clean and beautiful, then this lightweight electrical corded GreenWorks 25142 Lawn Mower is the ideal choice for you. This lawn mower is not a full-sized mower and thus it may not be suitable for larger lawns or yards. The compact design and light weight of the lawn mower makes it easier to mow through narrow spaces and uneven pieces of land. It has a series of different intuitive features that makes this product a good value for money.
This electrical mower is suitable for newbies and homeowners. Gas powered lawn mowers are really powerful but are not a feasible solution in terms of expense of gas and pollution caused through emissions. While on the other hand manual mowers would be time and efforts consuming. Thus going for this middle solution of GreenWorks 25142 is the most appropriate choice where you will end up making your lawn neat in less time with comfort and within affordable price.
Specifications
Brand: GreenWorks
Lawn Mower Model: 25142
Motor Power: 10 Amp Electrical Moto
Cutting Width: 16 inches
Options (cutting): Rear bagging and mulching
Cutting Heights Adjustments: From 5/8 inch to 2 5/8 inches (5 positions)
Wheels: 7 inches rear and 7 inches front
Weight of product: 37.5 pounds
Warranty: 4 years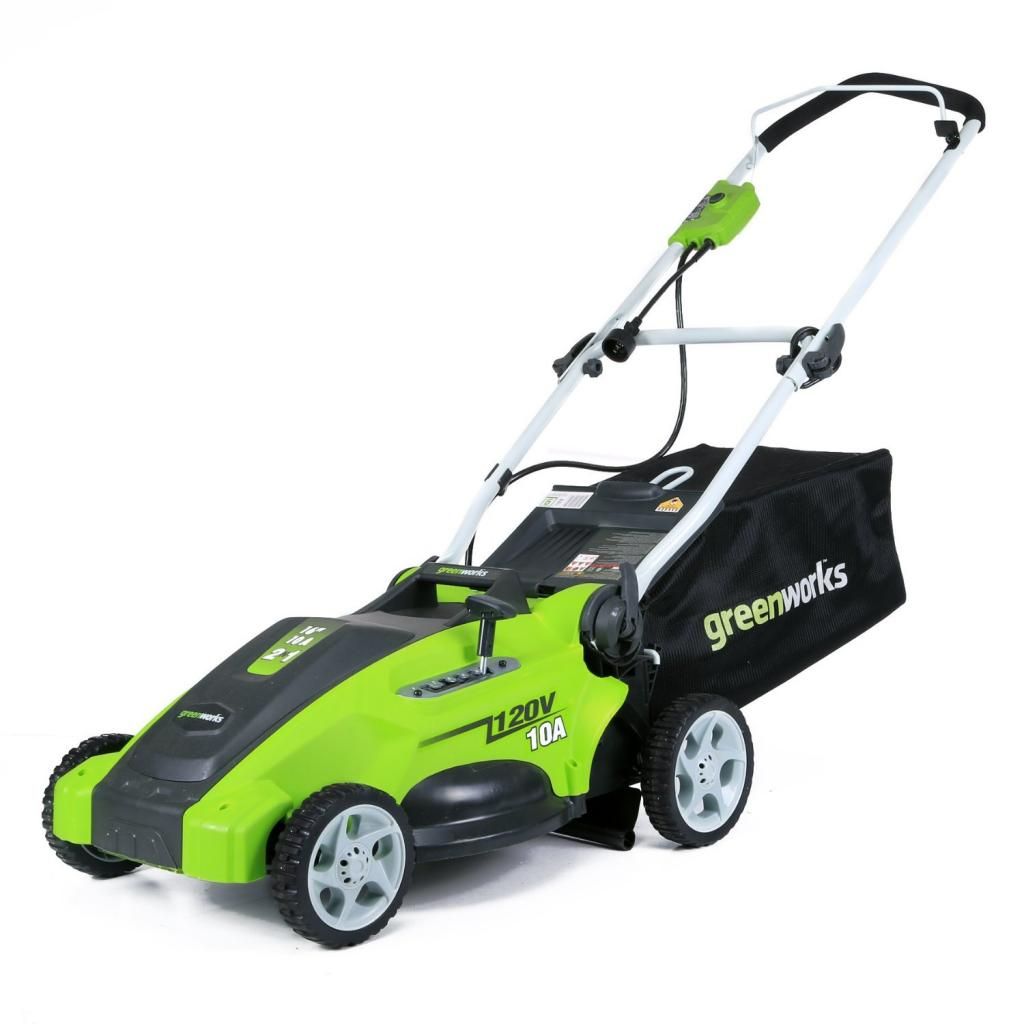 Find out the Specification details of GreenWorks 25142 here
Structure
The GreenWorks 25142 cutting deck is made up of good quality steel making it highly durable and efficient in performance. The deck makes this machine easy to maneuver.
The lawn mower has 2 in 1 function serving the needs of rear bagging and mulching. You can easily convert from bagging to mulching option. The lawn mower includes a grass catching bag that holds clippings from your lawn and is easy to dispose those clippings.
GreenWorks gives a warranty of 4 years for this lawn mower as well like GreenWorks 25022 lawn mower which again speaks for the durability and quality of this lawn mower. This machine is surely a lightweight machine which makes it easier to handle and move. The weight of GreenWorks 25142 is only 37.5 pounds.
Capacity
The lawn mower is suitable for a small sized lawn. It has a robust 16 inches wide cutting deck made up of steel which makes it a durable lawn mowing machine. The mower operates with a powerful 10 Amp electrical mower that gives you efficient and neat cutting of land.
Performance
The GreenWorks 25142 gives you a cutting height ranging from 5/8 to 2 5/8 inches. The mower is a single lever height adjustment with single blade and gives you 5 different positions. This lawn mower cuts your long grass into shorter one according to the height you adjust in no time.
The two different functions of bagging and mulching are suitable for varied needs for different types of lawns. You need not to worry about how to use the lawn mower as it has a simple push button starting system that makes this lawn mower easy to operate. It doesn't require much maintenance and it is easy to clean.
The GreenWorks works efficiently with two 7 inches front and 7 inches rear wheels. These wheels are made up of plastic and enable maneuvering easy for smooth as well as for uneven land spaces. You can enjoy trimming your lawn with complete feasibility and ease of moving.
Get it now to Make your cutting the lawn more interesting 
Operation
Moreover it is environment friendly with no emission and doesn't make much noise. The GreenWorks 25142 Lawn Mower is one of the efficient lawn mowers in terms of yielding high performance. As it is not gas powered, this lawn mower like other GreenWorks lawn mowers is environment friendly. It doesn't pollute environment as it has no emission of harmful gases.
Ease to use
The GreenWorks 25142 Lawn Mower is light weight and has a compact design. You can easily fit in this lawn mower at any place in your storage. So, now no more storing and handling of a heavy weight bulky lawn mowing machine when you can do same job efficiently with this machine. The handle of the lawn mower is foldable so you can store with convenience. It is made with a soft grip for easy handling.
The cutting blade of the lawn mower is sharp enough to give you clean trimmed lawn. You will find mowing your lawn with this machine easier and less time consuming. The single lever makes height adjustment easy and you can switch between different positions. It doesn't require any assembly or maintenance unlike other machines. The lawn mower has easy switching option and can convert from rear bagging to mulching with complete ease.
Pros
The lawn mower has a 10 Amp electrical motor making lawn mowing easier with tough and uneven surfaces as well.
Cutting deck is 16 inches wide and is made up of steel. It is durable.
The lawn mower is eco-friendly with no emissions.
2 in 1 cutting feature offers rear bagging and mulching.
Both rear and front wheels are of 7 inches making movement easy.
This product includes a grass catcher (easy to empty).
Foldable handle makes storage easier in small space.
It offers 5 different height positions ranging from 5/8 to 2 5/8 inches.
Design is simple and attractive color.
Weight is light in comparison to other machines only 37.5 pounds.
No assembly required.
Doesn't need maintenance.
Easy to handle and clean.
GreenWorks offer 4 years warranty which is an evidence of its quality.
This lawn mower is

affordable in price

in comparison to other expensive machines doing same job.
Cons
The grass catching bag is a little small and you would need to empty it during the process of mowing the lawn.
As the lawn mower is corded, you may need to have a power slot nearby.
Conclusion
The GreenWorks 25142 Lawn Mower is lightweight and powerful lawn mower that is easy to use, handle, maintain and store. The machine is designed with features that give you complete comfort of mowing and you can enjoy your time in your lawn. We would recommend you to buy GreenWorks 25142 if you have a small lawn and are looking for an eco-friendly and user-friendly machine. This will be best lawn mower for your small lawn.
Check out more helpful user reviews on GreenWorks 25142 here