If you are looking for one of the finest lawn mower with push reef feature, my recommendation for you would be Fiskars 18 Inch StaySharp Max Reel Mower (6201). This lawn mower is known for its sharp grass cutting with its patent-pending InertiaDrive technology and superior ergonomics. This machine has powerful features and it causes less amount of friction for blades to remain sharp for years. You will need to get the blades sharpened only after 5 years or so. The lawn mower gives superior performance without any charging, gas, cords or oil.
It is one of the most affordable, simple to use and easy to maintain lawn mower gives you all the basic functions of lawn mowing. Let's take a more detailed look on the structure and features of this Fiskars 6201 lawn mower.
Specifications
Brand: Fiskars
Lawn Mower Model: 6201
StaySharp Cutting System
InertiaDrive
Inset wheels
Cutting Width: 18 inches
Cutting Heights Adjustments: From 1 inch to 4 inches (9 positions)
Weight of product: 51.7 pounds
Grass catcher included
Warranty: 3 years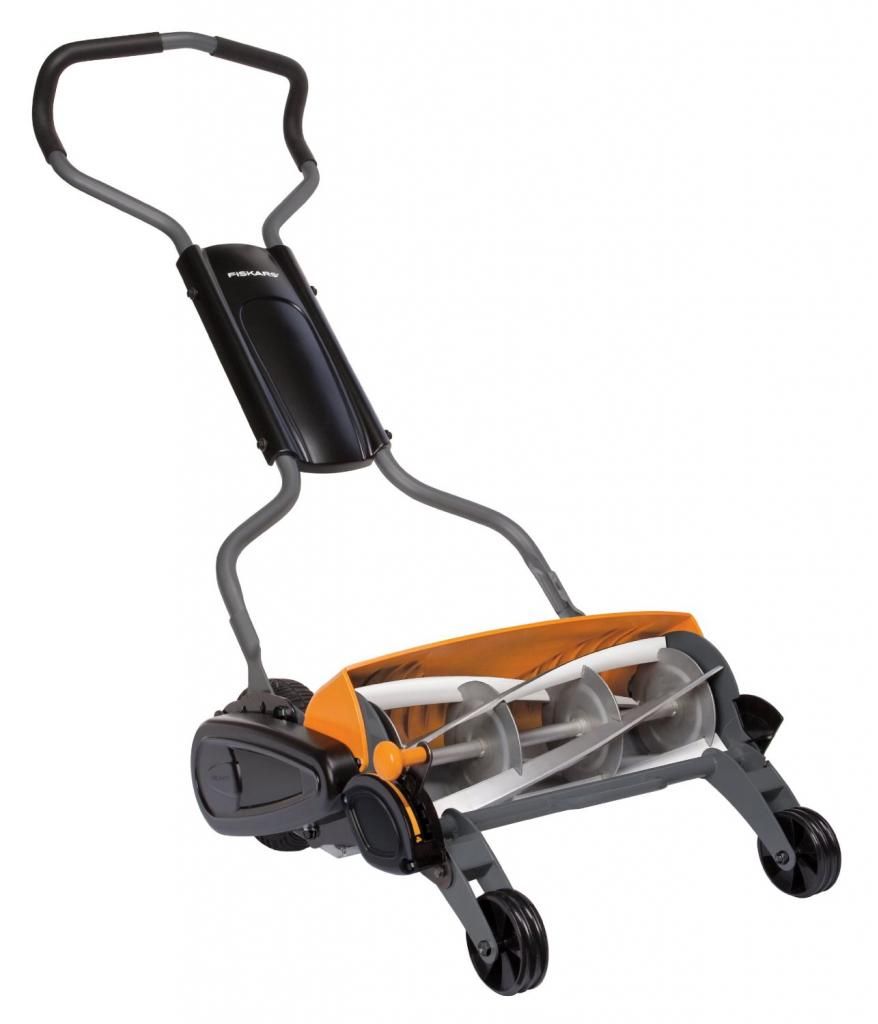 Find out the Specification details of this model here
Structure
Earlier it was known as the Momentum Reel Mower. The Fiskars 18 Inch StaySharp Max Reel Mower is a safe and easy to use lawn mower offering you powerful cutting with its innovative technology and features. This lawn mower is capable of cutting tall and thick grass of your lawn and is more powerful in comparison to other manual lawn mowers.
Moreover you won't have to deal with the trouble of cords or the disturbing noise that the other lawn mowers make. This lawn mower has received the Popular Mechanics Green Design Award of 2010 by the Consumer Reports. With the innovative technology installed, the Fiskars StaySharp Max Reel Mower offers 60% easier pushing as compared to other reel lawn mowers.
Moreover the weight of the lawn mower is 51.7 pounds which is heavier as compared to others. This heavy weight gives the mower more power to deal with tough edges. The Fiskars StaySharp comes with a limited warranty of 3 years.
Capacity
The lawn mower is suitable for all residential lawns. The cutting deck of this lawn mower is 18 inches wide. The StaySharp cutting system gives you sharp cutting for longer period of time without requirement of any maintenance or sharpening of blades.
The InertiaDrive technology gives it twice the power to deal with weeds, twigs and other tough substances that comes in its way however other mowers may get stuck.The Fiskars StaySharp has two main wheels along with two small wheels in front. The design of inset wheel enables the lawn mower to side edge ultra-closely without getting any strips in his way.
Performance
The Fiskars 18 Inch StaySharp could surely be termed as one of the best lawn mowers in terms of efficient manual power. With this lawn mower, you can enjoy mowing your land with a cutting height adjustment from 1 inch to 4 inches. 9 different positions could be adjusted between these ranges of cutting height.The blades of the mower are really sharp that cuts the lawn really well. The height adjustment system is a one touch lever where you can adjust the cutting height for your lawn grass as per your wish.The Fiskars operates with VersaCut technology that gives you complete control and ease of management of height while operating your lawn mower.
Check out full rating, pricing and reviews at Amazon now
Operation
It doesn't make any disturbing noise like other lawn mowers does. Out of many lawn mower reviews you may have read, you will find it to be an exceptionally quiet lawn mowing machine that makes almost no noise at all. Now lawn mowing can be relaxing activity or exercise and no more hearing annoying mowing noise. The lawn mower is designed to be nature-friendly as it doesn't use any gas or oil.
Ease to use
The Fiskars Reel Mower is easy to use. It is not that it doesn't require any efforts of pushing for operation, it does require efforts but its operation is quite simple.
The handle of lawn mower could be adjusted for different heights and the handle is padded giving its user comfortable grip over the machine. This handle folds and thus after operation the lawn mower can be easily folded to store.
The lawn mower has a grass catcher like GreenWorks 25142 Lawn Mower which is of a decent size and collects grass efficiently as you mow your lawn. This lawn mower has a unique discharge for grass that cleans up and shoots all the clippings towards front away from your feet. This makes your job easier and simpler with fewer efforts.The lawn mower is also easy to assemble. With manual carefully read, it would take only 5-10 minutes to assemble this whole unit.
Pros
60% more easy to push in comparison to other lawn mowers of similar type.
InertiaDrive gives powerful cutting (twice more power than other lawn mowers).
StaySharp cutting technology enables sharp cutting for years.
Reel manual push power gives efficient cutting of grass through varied spaces of land.
Cutting deck is 18 inches wide.
Soft grip and foldable handle which is easy to store.
Grass collector for storage of grass.
Light weight mower with weight around 51.7 inches
Easy to assemble.

Easy to maintain

and use.
Cutting height adjustment from 1 inch to 4 inches.
9 different height adjustment positions for varied cutting styles and needs.
Durable with 3 years warranty.
Most suitable for 1 acre or less area of lawn.
Cons
All the four wheels are fixed making the lawn mower difficult to turn.
Size of the wheels is quite small.
You may find this mower difficult to work on wet grass.
The mower doesn't collect clippings.
Video Demo
Conclusion
You may find the Fiskars 18 Inch StaySharp Max Reel Mower (6201) a little expensive lawn mower in comparison to others but its powerful sharp cutting feature gives it a competitive edge in gardening tools. This machine would be ideal for you if your lawn is 1 acre or less. This reel lawn mower is easy to use and requires minimal maintenance which makes it a more feasible choice among other reel lawn mowers.
Click here to see Full reviews of Fiskars 18-Inch Reel Mower on Amazon