Black & Decker is a name associated with introducers and makers of some of the high quality products since 1910. This name is highly trusted for quality of the products and their reliability. The Black & Decker SPCM1936 Lawn Mower is made with innovative features and cordless technology making it one of the best lawn mowers for dealing with average size yards.
You can trust the performance of this lawn mower as it will give you a nice cut clean yard within no time. The functions of this lawn mower are designed to be user-friendly making it suitable for newbies as well as for experts. This cordless electric self-propelled lawn mower gives you efficient results of cutting with less effort made. The lawn mower is electrical powered and as opposed to gas lawn mowers it has zero carbon emissions making it an eco-friendly machine.
Specifications
Brand: Black & Decker
Lawn Mower Model: SPCM 1936
Battery Voltage: 36 Volts (removable battery)
Transmission: Self-propelled
Cutting Width: 19 inches
Options (cutting): Rear bag, mulch and side discharge.
Cutting Heights Adjustments: From 1.5 inches to 3.5 inches.
Wheels: 9 inches rear and 7 inches front.
Weight of product: 92 pounds
Warranty: 2 years limited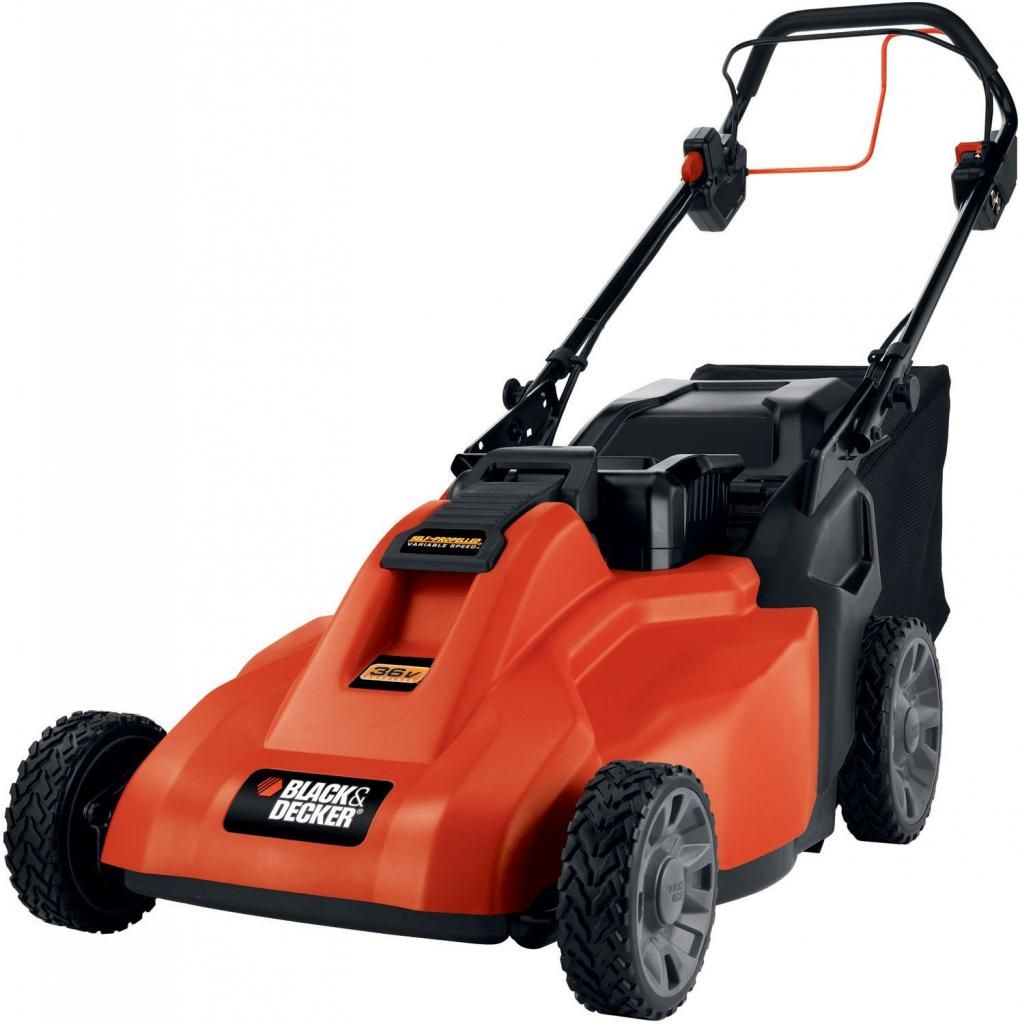 Check out the features and specifications details of it right now
Structure
The Black & Decker SPCM1936 Lawn Mower is an easy to use cordless electric lawn mower saving you the trouble of dealing with messy cords. The lawn mower easily starts with one push button and is equipped with a 36V battery which is removable.The lawn mower's main body is made of high quality material of polymer which requires minimal maintenance and would run for years without troubling you. This version of Black & Decker lawn mower also has a self-propelling feature which is an additional benefit.
This lawn mower will manicure your grass efficiently well. The lifetime warranty of deck speaks for its durability and performance. The product comes with a limited 2 years warranty.
The machine however is not really a light weight because of its lead acid battery and weighs around 92 pounds.
Capacity
The SPCM1936 Lawn Mower includes a cutting deck of 19 inches which is light weight made of polymer. The product has a lifetime deck warranty and because of the material used the deck would never get rust. You can clean a yard area up to 1/3 acres with this efficient lawn mower.
As this lawn mower is electrical power, it saves you money that you may spend on gasoline with a gas powered lawn mower. According to the research of the Environment Protection Agency (EPA) this lawn mower is environment friendly as it has zero emission. Moreover the battery is rechargeable and you can keep additional batteries if you are mowing larger lawn area. The rechargeable battery is qualified with Energy Star. It doesn't only save electrical power but also saves your money.
Performance
The SPCM1936 Lawn Mower includes a one-touch height adjustment through which you can adjust height of all the four wheels rear and front by pulling a single adjustment level. The cutting height of this lawn mower is from 1.5 inches to 3.5 inches. Cutting height changes quickly according to the requirement of lawn.
The SPCM1936 gives 3 functions. You can choose to bag, discharge or mulch and the features can be changed with the push of a single button. The mulching and discharge options here works really well however you wouldn't find bagging as efficient as you can find in other mowers like GreenWorks 25022 Electric Lawn Mower.
The SPCM1936 Lawn Mower offers superior mowing with its 36 Volts lead acid powerful battery. This lawn mower operates with a perfect balance with its 9 inches rear and 7 inches front wheels. The rear wheel drive makes this lawn mower easier to move through inclined areas of land. This means you can mow uneven surfaces with ease.
Check out Performance and Power of Black & Decker SPCM1936

Operation
There is no risk of disturbing neighbors in your locality as the Black & Decker SPCM1936 is really quiet and hardly makes any sound. The SPCM1936 lawn mower is one of the quietest lawn mowers and makes relatively less amount of noise in comparison to gas powered lawn mowers. The lawn mowing job thus could be done at any point of time during day without worrying about noise level disturbing others.
Ease to use
The Black & Decker SPCM1936 is easy to use with its self-propelling feature. However as it is not a light weight machine, people who are not used to of self-propel feature and may be find it a little harder to move through large space of land. They would have to become use to of how to use a lawn mower which is self-propelled.
The design of this machine is foldable for easy storage when you are done with mowing your lawn or yard. The handle grip is also a no-slip type making mowing lawn easier. The cutting deck of this lawn mower is highly durable with lifetime warranty. Its cordless feature makes it more suitable for use and you can avoid being trapped with messy cords. The lawn mower is easy to use, to clean and to store making it a suitable machine for all who wish to consume less time in their lawn mowing activity and make it more fun filled.
Pros
36 Volts rechargeable battery powerful

enough to mow through an area of around 1/3 acres.
High quality durable polymer is used with this machine.
19 inch polymer deck with lifetime warranty.
Lawn mower is eco-friendly with no carbon emission.
Self-propelled.
3-in-1 cutting feature includes side discharge, mulch and rear bagging.
9 inches rear wheels enables easy incline.
Product includes a rear bag and safety key.
Easy to store with its folding feature.
Cordless machine prevents cord handling.
Cutting height adjustment single level from 1.5 inches to 3.5 inches.
Easy to use and clean.
Low level of noise.
Instant startup with one push button.
Cons
Difficult to run on low speed in self-propelled mode.
Reverse mowing is intricate.

Video Demo
Conclusion
Having all the information of the features and benefits of Black & Decker SPCM1936 Lawn Mower, you can consider it among our Top 5 lawn mowers. The lawn mower is cost saving in terms of its electrical power and maintenance and is an efficient machine.