Black & Decker are known for be leading manufacturers around the world for their powerful tools, technologically advanced systems and various other hardware products. A product with this name associated is ensured to be of high quality and innovative design with efficient performance. The Black & Decker CM1936 Electric Lawn Mower is another example of years of experience of Black & Decker. This lawn mower features efficient high performing design that offers your powerful mowing with complete convenience.
With this machine, you will have a comfortable mowing experience that other machines lack to offer. You can easily make your lawn look beautifully trimmed with this cordless electric lawn mower saving you expense and hazards of using a gas powered mower.
Specifications
Brand: Black & Decker
Model: CM1936
Power Source: Cordless-electric
Battery Voltage: 36 Volts (removable battery)
Cutting Area: 1/3 acre
Cutting Width: 19 inches
Options (cutting): Rear bag, mulch and side discharge.
Cutting Heights Adjustments: From 1.5 inches to 3.5 inches.
Wheel Size: 7 inches front and 9 inches back wheels.
Weight of product: 75 pounds
Warranty: 2 years limited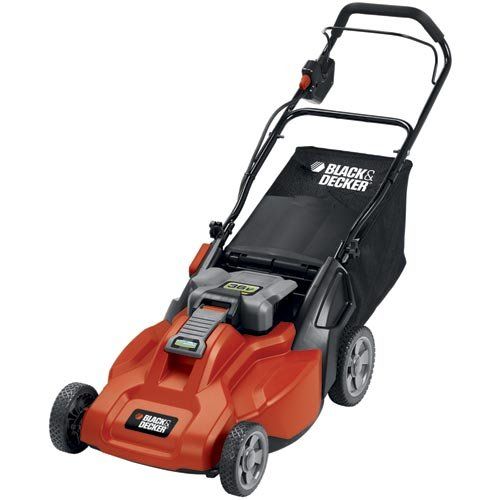 Check out full rating, pricing and reviews at Amazon now
Structure& Design
The Black & Decker CM1936 Electric Lawn Mower has an efficient cordless design. This mower saves you from the trouble of dealing with cords. It is appointed with 36 Volts removable battery. You can even add more batteries for cutting of larger lawns for a longer period of time. The improved and ultra-effective design of this machine gives you more run time and better performance. The model is a variable speed self-propelling machine.
The package would include rear bag assembly, battery pack, charger, mulch plate and a safety key. Black & Decker offers lifetime warranty for deck and two years limited warranty for this machine. The mower has dimensions 36 x 22.8 x 18.5 inches along with a light weight of 75 pounds as opposed to its heavier peer Black & Decker SPCM1936 Lawn Mower (92 pounds).
Capacity
With a 19 inches cutting deck similar to SPCM1936, this mower is most suitable for average to big lawns. In one go this mower can clean up a lawn area of 1/3 acres. The lifetime warranty of deck gives you worry-free operation throughout the life span.
Moreover this mower is environment friendly that gives no carbon emissions as opposed to gas lawn mowers. Also the charging system used is Energy Star qualified meaning that the batteries are charged using less power energy and saves money. If you wish to clean even larger lawn, you can carry additional batteries with you.
Performance
Performance is one of the most important factors when you want to find the best lawn mower. The Black & Decker CM1936 Mower gives you excellent performance. It features one touch height adjustment system with the help of which you can adjust height of wheels. All the four wheels are adjusted with a single level pull. You can adjust height anywhere between 1.5 and 3.5 inches.
The mower is capable of mulching clippings in your lawn and these clippings then serve as natural fertilizers. It is also appointed with a rear bag that you can easily empty. Thus it serves all the 3 functions including side discharge. The chute and mulching insert are sold separately.
The CM1936 has good stability with 7 inches front and 9 inches back wheels. Now you can mow your uneven land with ease and enjoy superior trimming.
Check out Performance and Power of Black & Decker CM1936
Operation
The Black & Decker CM1936 Electric Lawn Mower features quick startup using key and pull of handle. Once you have started this machine, there is no need to worry about your neighbors being disturbed as this mower makes almost no noise. It is a quiet machine in comparison to gas lawn mowers that make noise. Make use of advanced features of quiet machine at any time during day. It operates really fast saving the amount of time and efforts that you may be spending with your existing lawn mower.
Ease to use
The CM1936 Lawn Mower is a comparatively light weight machine. Self-propelling features makes it easier to use. Also it has a foldable design. Thus when not in use, you can easily fold and store it. No need to worry if you have a small space, the machine will fit in compact space easily.
The design of the machine is ergonomically friendly with non-slip rubber comfortable grip. This mower is known for offering easy maneuvering of land. The blades have innovative design and are sharp enough to give you precise cuts faster and with efficiency. Removable battery enables lifting out and you can charge it anywhere. Zero carbon emissions help you to keep a healthy manicured lawn at all times without affecting the environment.
Unlike gas mowers, this cordless electric mower doesn't need much maintenance. It will give you long running performance with efficiency with little maintenance only. Also it is simple to clean and cleaning wouldn't take much time. It is completely assembled product and it would take only a few minutes to get it ready for operation.
Pros
36V removable and rechargeable battery.
Trim average to big lawns of size around 1/3 acres.
Durable high quality and efficient design.
19 inches deck with warranty for lifetime.
Zero emissions and mower is environment-friendly.
It features self-propelling feature.
Instant startup.
It serves 3 functions including mulching, bagging and discharge.
It works well on uneven or inclined surfaces with 9 inches rear wheels.
Folding design makes storage easy.
Less maintenance required.
Easy to clean.
Easy to use and doesn't make noise.
Battery full charging time is only 4 hours.
Height adjustment is easy with single level (range 1.5-3.5 inches).
Cons
Below mentioned are some of the drawbacks that users have reported for this mower:
Propels faster even when speed level is kept low.
Some found trouble using it in denser spaces and over wet grass.
It is a little heavy

Conclusion
Our lawn mower reviews reveal that if you are looking to save yourself from hassle of tuning and fueling up gas lawn mowers, then this would be the most comfortable cordless electric lawn mower. The Black & Decker CM1936 Electric Lawn Mower is a powerful mower for large lawn. It is simple to use, gives reduced carbon footprints, requires minimal maintenance and is noiseless.